Extensions
Basic Configuration:
Footcontrols and pedals
The TS12 has room for two double-foot-pedals and one foot-controller. In opposition to the most other synths, the pedals are break contact elements, wich means in unused state the electric circuit is closed. The Foot-controller has an ohmic resistance of 10 kOhm. I've tried also a 47 kOhm-resistance, it just worked fine. When the controller is set to minimum, the ring is connected with ground, at maximum the ring is connected with the tip. The foot-control can be configured as volume-pedal (midi no. 7)or as foot-control (midi no. 4).
SCSI-Kit:
With the SCSI-Kit the internal sample-memory can be fed with new stuff. Storage of sounds and sequences is not possible. The SCSI-Kit isn't offered anymore. It's only second hand avaliable, in most cases only with a suffixing TS12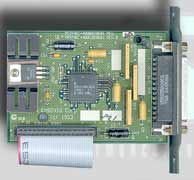 sequencer-extension: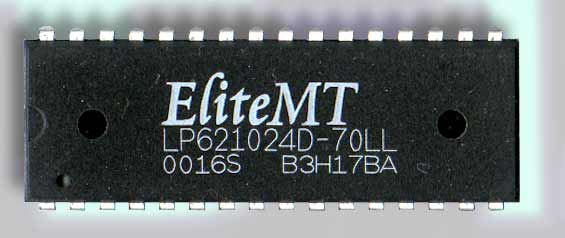 With the sequecer-kit, consisting of two of the integrated circuits imiged beneath, the internal non-volatile sequencer-memory raises from 30.000 to 93.000 events.
| | |
| --- | --- |
| Part | LP621024D70LL |
| Manufacturer/p> | ELITE MT |
| avaliable | |
The installation is simple: screw of the base-plate, slot in the IC, screw down the the base-plate, reset the TS12 (backup memory before!!!)

sample-memory-extension:
The TS12 has two banks of volatile sample memory. They can be populated with either 1 meg or 4 meg
Use non-parity (8 bit) SIMM's. Parity (9 bit, designed for IBM compatibles) can cause damage to the TS10/12. It puts an extra drain on the power supply and increases the heat generated.
Access speed of 80 ns (nanoseconds) or faster.
They must be matched pairs! If you were to buy two 4 megabyte SIMMs, both must have an identical speed ( e.g. 80ns). Two SIMMs with different speeds will not operate efficiently.
30-pin configuration.
DRAM's. The TS10/12 will not accept static RAM or ROMs.
Do NOT use composite SIMMs. Composite SIMMs have a PAL (Programmable Array Logic) or GAL (Gate Array Logic) chip along with the memory chips. The PAL or GAL or memory chips might be on either side of the SIMM module. Our product needs to be in control of the memory access. The PAL or GAL can impede the operation of the ENSONIQ product and cause unpredictable errors.